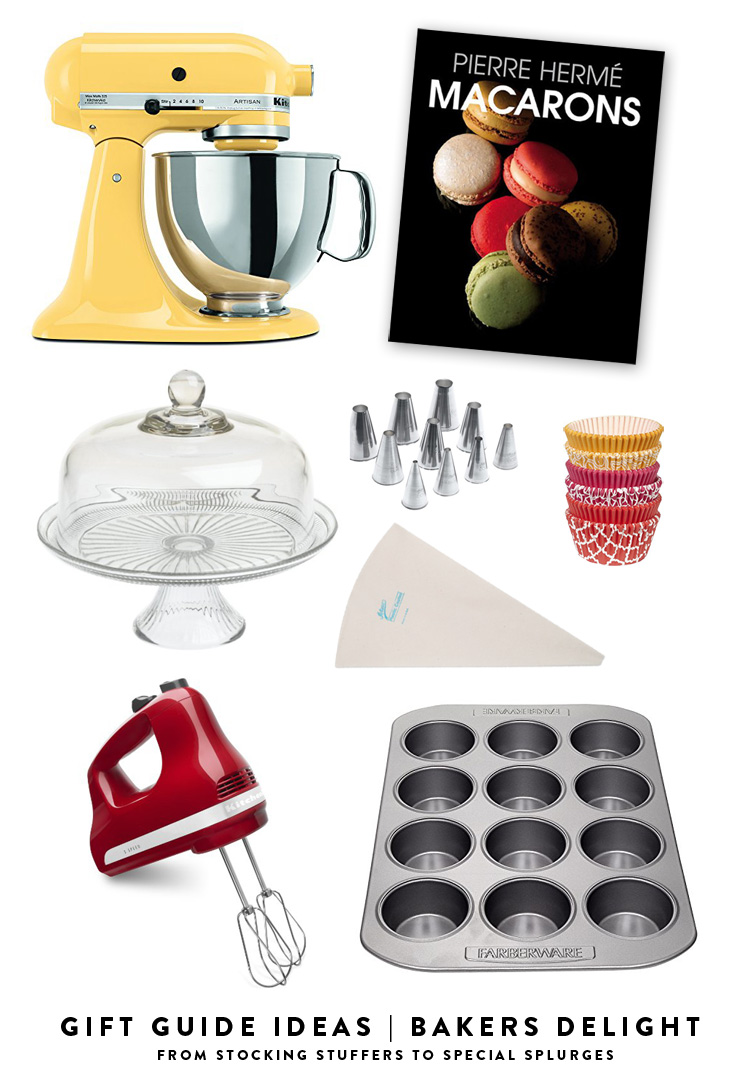 WhatIWore: On your mark, get set, BAKE! This is really just my own Christmas wishlist! In the past year I've really enjoyed baking but I know that the right tools for the job can make it even more enjoyable! Know a baker you want to spoil? Consider some of these fabulous gifts! 
1. Kitchen Aid Stand Mixer - This one's expensive, but it's also usually on sale around the holidays!  Look to Black Friday or Cyber Monday to get a great deal. I already have a mixer I received as a wedding present, but if it was lost in a fire, I'd want a pretty pale yellow or aqua version as shown here (there are 42 colors available right now on Amazon!). On sale TODAY (11/23) for 20% at Target with code KITCHEN! 
2. Silpat Liners - I have one but I'd love more! Silpat trays eliminate the need for greasing your cookie sheet and allow your baked goods to easily peal right up. 
3. Flour Sifter - Believe it or not, I think it makes a big difference in some more delicate treats (like macarons). Right now I'm just using a mesh seive, so I hope I can add a sifter to my tool box soon!
4. Hand Mixer - Sometimes you've gotta really beat the heck out of your icing (like with cream cheese!) and the stand mixer isn't the right tool. A hand mixer is on the top of my list! Lots of pretty color options available there too! (Dropping hint here!!)
5. Cake Stand - Half the fun of baking for me is making my treats look beautiful. I'd love to be able to show them off under a glass cake stand in my dining room. If you've already got one of those, these are pretty too! 
6. Pastry Bags and Tips - Speaking of beautiful treats, I'd love a little set of pretty tips (and these thingies) and professional grade pastry bags for decorating!
7. Cookbooks - Not sure what your baker has in her kitchen? A cookbook is always a great addition! No surprise that I'd like to read more about Macarons, Pies and Bread! 
8. Cupcake tray and liners - This is actually a great last minute gift you can pick up at the grocery store! Who doesn't like baking cupcakes! Throw in a box mix and some sprinkles and you've got an excellent gift for that teenage neice you're not sure what to get!  Mini trays and liners are fun too! 
9. Kitchen Scale - Ever notice how the contestants on The Great British Baking Show use their scales for precision measurements? I think it makes a difference (especially in macarons!). 
10.. Apron - You can always tell when I've been baking because I probably have smudges of either flour or powdered sugar on my jeans. Where did all of my aprons go? I'd love to have a chef's number like this to hang on a hook and put on every time I turn that oven on!