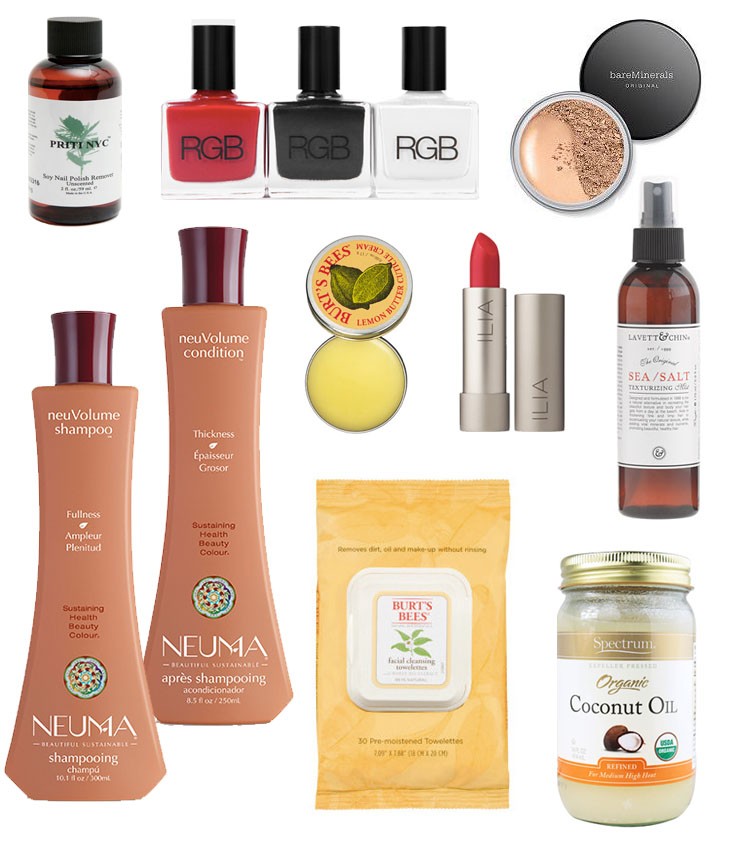 WhatIWore: Happy Earth Day! Ever since a baby has been in the picture, I've been a lot more serious about finding bath and beauty products that are non toxic and effective.  Some swaps are easy and cheap and others are a little more expensive and require some research, but it makes me feel good at the end of the day to use things that are as natural as possible. Finding a list of good products can also be a challenge, but I found the beauty section of Wear No Evil by Greta Eagan to be a good resource (full disclosure - we're long time pals, I'm quoted in the book and I received an advance copy, just like she did with mine!)  Read on to see what I'm loving for my health and beauty routines or click the [+] above to shop!
Body: Your skin is your body's largest organ, so it makes sense to avoid extra chemicals, right? When I was eating a paleo diet last year, we bought a lot of coconut oil and that's when I started using it as a makeup remover on my face.
Now I use it as a moisturizer for my entire body! I did some research on belly butters and creams for expecting mamas and saw that coconut oil was often used a base. So… Adam infused some herbs (along with grape seed oil) and surprised me with a homemade version! I like using it best at night after a shower because it does take some time to absorb after applying it. 
Basic Hair Care: For shampoo and conditioner, I like Neuma Volume which I buy at my local salon. It lathers nicely and has a warm chocolately smell. Yum.
Styling: I've been trying to avoid aersol hairspray and instead use a sea salt spray before I curl my hair (or between washes) for a little extra holding power. It smells pretty and gives my naturally fine hair a nice texture, but it's definitely not the same thing as strong hold hairspray. I'm ok with that! It's pricy but a couple of spitzes per style mean it lasts and lasts (I've had mine since last summer)
Deep Conditioning: As you've already read in this post, I love coconut oil as a beauty treatment.  For a deep condition, use some warm coconut oil from the mid point of your strands down to the tips and leave on hair for 15 minutes before you shampoo. I've used more (over my entire head) but that ended up being too much and took two washes to come out (however, the end result was the softest, shiniest hair I've had since bleaching it).  Experimentation will take you a long way here, so give yourself a weekend (without major plans!) to try it out.
Nails: The last thing I wanted near me (when while nauseous during my first trimester) was acetone nail polish remover… so I thought I was going to have to let the dark red/blackish lacquer on my toes just grow out. Ugh. Nasty. 
Luckily - I found the BEST nail polish remover via the Beauty Bundle at Storq. It's by Priti NYC and it's soy based and it doesn't smell at all. With light colors the polish comes off pretty easy (just one cotton ball for all 10 fingernails) but it did take two cotton balls worth to get off the dark shade on my toes. It's expensive, but for me, it's worth it! 
As for polish, I've been using RGB and my favorite is Dove (from Storq) - a super pale shade of gray that looks fresh on fingers and toes. It goes on a little thicker than I'm used to, but also gives great coverage for such a pale color. 
I also like using Burt's Bees Lemon Cuticle cream (and the citrus smell never bothered me during my highly sensitive first few months of pregnancy!)
Face: Instead of using a cleanser and water to remove dirt and makeup, I prefer to use Burt's Bees Cleansing cloths. For years I over cleansed my skin which caused it to break out even more. After loosening up my mascara and eye makeup with coconut oil, I gently cleanse with these cloths. I received these as part of a gift basket at Christmas and have already restocked 5 times since! I just love them! 
Foundation: A couple of years ago I got a weird eye infection after using a mystery product (I still have no idea what it was, but I tossed everything anyway) and needed a natural product to help me feel normal again (one eye was almost swollen shut and super red). I knew I needed to find something gentle and ever since I've been obsessed with Bare MInerals powder. I don't have perfect skin but this stuff is like Photoshop - it erases my imperfections! I rarely use concealer (when I do, it's this) and it gives great coverage over any spot or redness around my face.
Lipstick: I haven't given up my full range of lipsticks, but I have experimented with a new shade for spring from Ilia called 'Wild Child'. It's made with food grade pigments (some of that lipstick is going to be ingested!) which I feel really good about. And the color is so bright and pretty that it instantly wakes up your face. 
There are some items I just can't seem to make the switch to - all natural toothpaste and deodorant to name a few. We tried some nontoxic sunscreen this weekend and I didn't love it either (left a white film!) If you have a natural product that you love and would like to share, please visit me on my facebook page. See more of my pregnancy posts HERE. 
Finally - I'm not a doctor, scientist or investigative reporter - I just do my best to find products that work for me.